The chart below shows the principle flow and steps within a typical IC EOS/ESD and Latchup troubleshooting project and covers most of the past cases. Yes, there are exceptions to this flow and execution time depending on technical complexity as well as the customer bounday conditions. Moreover, we may need to arrange for an expedited project service depending on your urgency.
Fact is that we successfully diagnosed the failure root-cause in more than 70% of all cases

in less than 3 work weeks

including the definition (and partly even integration) of EOS/ESD fix solutions
.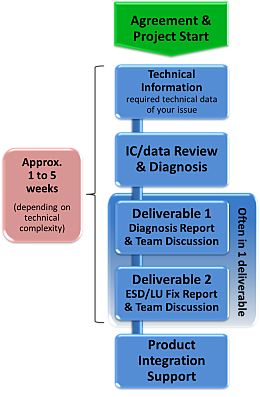 Read more about the 3 decisive project steps here:
KLICK on the arrows below to see information.

ESD / Latch-up Failure Diagnosis
Evaluation of our

failure diagnosis questionnaire

to be filled in by our customer
Assessment of technical customer data regarding correctness and completeness Is there any additional data that can further help us?
Review of relevant layout & schematic data from your failed product. Multiple scenarios used in the past such as GDS exchange, VPN login, onsite review etc.
Review of your available failure information, e.g. ESD / latch-up data, FA etc
Hypothesis on failure mechanism, e.g. determining critical ESD current path(s) and voltage drop(s); or latch-up parasitic
Optional (as requested): Draft experiments to narrow down problems or verify our fail hypothesis. E.g. 

TLP or vf-TLP analysis

of your failed silicon product (package- or die-level) allows also to gain further insight into the critical ESD parameters (e.g. ESD design window) and to reduce the later fix risk
You will receive the complete diagnosis results in a technical

ESD/LU failure diagnosis report

. This document is fundamental for our ESD fix proposal(s).
Presentation of report to and discussion with your expert team either thru

web presentation or in face2face meeting

Cooperation with your debug team during the entire flow (as required or requested)
ESD / Latchup Fix of Your Product
Based on the diagnosis results, we will identify/create the ESD/LU solution proposal. Often multiple scenarios can be developed from a solid diagnosis 

Your possible additional boundary conditions will be considered to find an appropriate solution (e.g. dedicated mask change only, no new devices, other trade-offs etc)

You will receive a risk assessment of (different) solution(s)

You will receive a detailed ESD/LU failure fix solution report including a step-by-step procedure for product layout integration.

Presentation and discussion with your expert team either thru web conferecing or in a face2face meeting

Cooperation with your debug team during the entire flow (as required or requested)
Product Integration Support (as required)
Layout implementation review (cf. scenarios above)
Detailed feedback and discussion (email, telco, onsite)
Cooperation with the layout integration engineers