From a project flow point of view, an IC review runs very similar to an EOS/ESD troubleshooting project described here.
Pre-tapeout IC reviews focus on risk management by a comprehensive assessment of customers ESD solutions. Besides detecting and eliminating "fatal" ESD design issues before committing your IC to silicon, such an in-depth review may result in a significant optimization step regarding reliability and even area.
EOS/ESD expert IC reviews include:
Full IC chip floorplanning including padring, ESD placement, bus architecture and effective bus resistance, RDL wiring, etc).
Individual IOs or IP macros including ESD integration.
Individual ESD device architectures or ESD circuits
Independent assessment if third-party IP is suitable for your IC application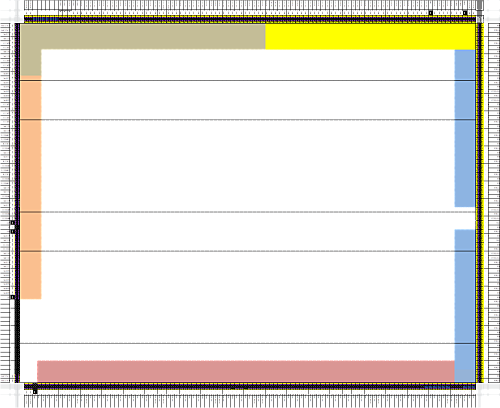 Example padring / bus map from a review project with multiple IO libraries and IP macros for TSMC 40nm. Such an ESD analysis may include the review of library design rules & guidelines, Rbus extraction and cell placement, IP review etc.
A typical delierable is the IC review and optimization report including a padring map with e.g. information on effective bus resistance and potential design rule violations.