As partners we define and set up the project of consulting service in close alignment with our customers. Due to our long-term experience with many different semiconductor corporations from all over the world, we can expedite this setup process significantly if time is of a concern – and often it is! Agreement were reached in a week in the past. The flow below indicates the typical individual steps.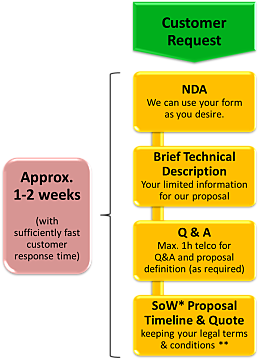 After execution of your NDA, you can safely share the most important technical information to assess your ESD / Latchup IC issues and to understand your boundary conditions for a solution. Our remaining questions can generally be satisfied in a brief telco. As soon as we have a solid picture on the technical challenge, we construct a proposal for a Statement of Work (*SoW), which specifies the technical content, deliverables, timeline, milestones, project fee etc. We agree to keep your legal terms and conditions for our cooperation after checking those regarding law compatibility.
To save time we often start already with the project execution before the final SoW is executed by the customers management.
BTW, if time is of no concern for you and your strategic long-term development, it is our pleasure to discuss all details with you just as long as it takes. We always consider your boundary conditions first.
Please find more informationon on the troubleshooting projects including typical project flow, deliverables etc here.